In Memorium
Henry Lincoln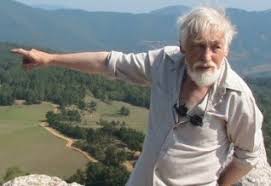 Don't just look. What do you see?
Writer, broadcaster, president of the Saunière Society, and dear friend to many, Henry Lincoln (Soskin) has passed away. Throughout his life, Henry shared the stories of Berenger Saunière and Rennes-le-Château with a global audience. His work stirred up passions and controversy, inspiring a generation of researchers and pilgrims eager to explore the Rennes pentagram, the geometric precision of its geography, and many other mysteries.
Henry was born on 12 February 1930. Often sharing stories of being removed from London as a child during the air raids of World War II and his father's war service bringing horses to the front, Henry was keenly observant from an early age. As a boy, he was fascinated with Egyptology and taught himself to read hieroglyphs. Later Henry would spend his National Service in post-war Egypt learning Arabic and acting in the GHQ Theatre. In his later years, Henry kept a silk handkerchief printed with hieroglyphs in his pocket, which he would produce for the purpose of demonstrating the mystical, hieroglyphic, spelling of the word 'phooey'.
After his National Service in Egypt, Henry enrolled at the Royal Academy of Dramatic Art. A lifelong lover of Shakespeare, Henry played Bottom, Othello, and many other roles before departing theatre for BBC radio, eventually transitioning to BBC Television as an actor and writer. Henry scripted many BBC shows, including several episodes of 'Dr. Who' with Mervyn Haisman, such as 'The Abominable Snowmen'. Together they also wrote 'Curse Of The Crimson Altar' (1968), Boris Karloff's final film. According to Henry, the aging Karloff couldn't walk and say his lines at the same time, so Henry put his character in a wheelchair and the problem was solved! In 1974, Henry also appeared in Georges Franju's 'Nuits Rouges', a tale of modern Knights Templar and secret treasure.
But perhaps the event that most shaped Henry's work was reading Gérard de Sède's 'Le Trésor Maudit' while on holiday in the Cévennes in 1969. Henry's discovery of Rennesle-Château led to three BBC2 Chronicle shows in the 70s: 'The Lost Treasure of Jerusalem', 'The Priest, the Painter, and the Devil', and 'The Shadow of the Templars'. In addition to spawning his 1982 bestseller 'Holy Blood, Holy Grail', that chance reading also led to 'The Messianic Legacy', also with Baigent and Leigh, 'Key to the Sacred Pattern', and 'The Holy Place', which Henry considered his best book. In 2002, Henry collaborated with Erling Haagensen on 'The Templars' Secret Island' and a four-part television show based on the book.
After moving to France, Henry continued his research, led tours, appeared in countless shows and videos, and lectured about his work, generously sharing his time and knowledge with the Saunière Society. In recent years Henry focused on his geometric and mathematical research, which he considered 'demonstrable and measurable' rather than dwelling on hypotheses he often dismissed as unprovable 'rubbish'.
In 2018, Henry's archives and papers were moved to the Embassy of the Free Mind in Amsterdam to be permanently preserved within the museum's Bibliotheca Philosophica Hermetica. At the time, Dan Brown, author of 'The DaVinci Code' had recently made a large financial donation to the museum. When we asked Henry if he saw that as a conflict, Henry said that stories belong to everyone, while also adding that he found it ironically enjoyable that Brown was financially supporting the museum that would now preserve his legacy.
I spent many days driving around the Aude with Henry, exploring little villages and scuffling up hillsides, Henry shouting directions from the backseat, muttering 'ho bloody hum', and laughing at his own jokes. I wish I could have been in France to say goodbye to Henry, but to be honest, Henry was lousy at goodbyes. Every time I left his house, even if I was coming back the next day, Henry would follow the car as I tried to turn down his tumultuous driveway, telling me one last thing, grabbing my hand one more time, then stopping me again to share one final story. 'Goodbye' with Henry was never quick. It was a process that was drawn out and lingered. But today, I tell myself that maybe this final adieu will be the same—that something will linger. And I like that idea.
À bientôt Henri. Merci! Until we meet again.
- Lisa M. Feinstein