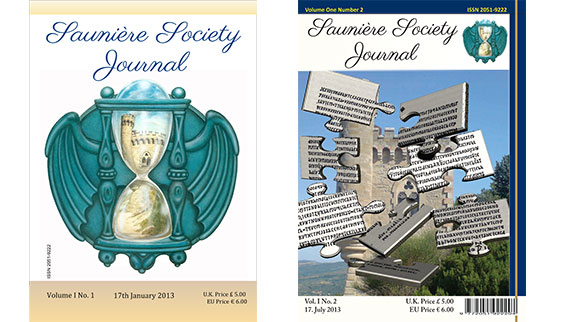 The Sauniere Society Journal
The Sauniere Society publishes a journal which can be obtained through subscription or direct purchase at one of our several symposia which are held throughout the year. There is no set regular publication dates as yet and no set number of annual issues which may vary in size and periodicity. Membership is by annual subscription currently £ 20.00 pa for residents of the British Isles (proceed to Membership page for more details).
The journal, among other things, features articles contributed by members and friends of the Society and published authors. Also featured in the journals are reviews of recent books that you will find in no mainstream bookshop! The journals also highlight recent symposia and the various presentations of the featured speakers.
Members correspondence, whether friendly or hostile, are always warmly welcomed and published as far as humanly possible in the next edition. We reserve the right to reply in the same issue to hostile or erroneous statements where it seems fair, equitable and reasonable to do so. All contributions to the journal are purely personal, including those of the Editor and are not intended to reflect the views of the Sauniere Society.
At present, we have yet to establish a policy on how we will ultimately proceed on presenting journal material on this page. Meanwhile, to whet your appetite, we have included an articles on this page for your reading pleasure. To access, click on the link below.